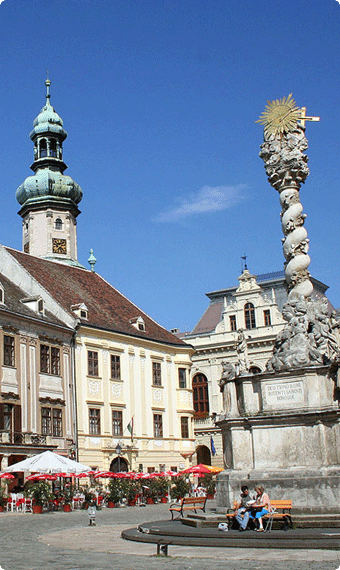 A Few Words About Hungary
Hungary is located in Central Europe, embraced by the arc of the Carpathians. The landscape is dominated by plains and gentle hills of the Pannonian Basin. Some inselbergs form 600-900 m high mountain ranges. The landscape is characterized by temperate grasslands, agricultural land, meadows and non-coniferous forests. Two major rivers: the Danube and the Tisza flow across the country from north to south and provide natural links to the immediate neighbours and the more distant European partners. Lake Balaton, the biggest still-water lake in Central Europe is a favorite touristic target because of its warm water and nice landscape. The geothermally hot Pannonian Basin provides excellent spas and cure resorts for the country.
During its more than 1000 years the Hungarian state has experienced every possible historical sort. It was several times invaded by different empires, coming from the east. It survived several subdivisions, lost world wars, civil wars and revolutions. Today Hungary is a member of the European Union.
Hungary has a slowly diminishing population of 10 million. The capital: Budapest is the most densely populated area with its 2 Million inhabitants. Several major cities of some 100.000 inhabitants are found in county centers. The biggest cities are Miskolc, Debrecen, Szeged, Pécs, Veszprém, Székesfehérvár and Győr.
The dominant Hungarian (Magyar) population arrived from the east, from the Ural region is different in language and folklore from the surrounding Slavic, German and Romanian populations. Today's Hungary hosts ethnic minorities (altogether 10 p.c.) including Roma (Gipsies), Schwabs and Saxons (Germans), Slovakians, Vends (Croatians), Serbians, Romanians, Polish, Jewish, Armenians. Hungarians live outside Hungary as minorities, mostly (nearly 3 millions) at the immediate neighbourhood.
Cultural highlights as well as culinary interests are found everywhere in the country. Nice museums, monuments wait to be discovered in greater cities, around Lake Balaton, in the Danube Bend and in the Puszta (Great Hungarian Plain), and also in Sopron.
Hungary has Central European climate, with subalpine features. The weather is usually fine and warm in the end of August. The average temperature in August is 19 Celsius degree, the monthly precipitation is about 60 mm. (Between 23-30 August 2009, the weather in Sopron can be anything from a sunny 35 °C to a rainy 15 °C…)
The standard nominal voltage in Hungary is 230 V (50 Hz, AC). The official currency in Hungary is the Hungarian Forint (HUF). Money can be changed at banks and at exchange points located in the city. In 2001 Forint became fully convertible. The official exchange rate is shown here, in graphical form here. All major credit cards are accepted in Hungary in places displaying the emblem at the entrance. Hungary has an extensive network of ATM machines where you can get cash with Visa, MasterCard and other common bank cards.