Social Programmes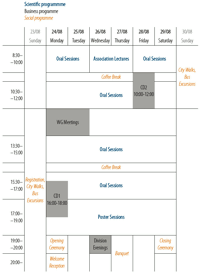 Schedule at a Glance
IAGA 2009 Banquet in the LISZT Conference Centre on Thursday, August 27
Place: Széchenyi Hall (level 2)
Starting time: 20:00
Programme:
Operettas and musicals by Lilla GALAMBOS and her artist fellows (before and after the dinner): famous classical song hits from the Austro-Hungarian and modern times, including songs by Ferenc LEHÁR. This famous Hungarian (Austro-Hungarian) operetta composer (known abroad as Franz LEHÁR, born in Komárom, Hungary, 1870, died in Bad Ischl, Austria, 1948), who enriched the musical theatre repertoire with such works as The Merry Widow, The Count of Luxembourg, The Land of Smiles, spent his childhood in Sopron (Lehár Ferenc utca 5). Narration: in English. Songs: in Hungarian, German, English and French. Piano music: during the dinner.
Aperitif:
Champagne with Campari
Served dinner:
Goose liver cake with fresh salads, blueberry jelly and crème of balsamic
Broccoli crème soup with crisp pearls
Stuffed sirloin richly, bacon-coated tenderloin with forest mushroom sauce in red wine, potato crisps, rice with sesame seeds
Peach stuffed with chestnut, with chocolate duet and whipped cream
Vegetarian alternatives
Drinks:
Sopron white wine: Irsai Olivér from Iváncsics vineyard
Sopron rosé: Merlot Rosé from Iváncsics vineyard
Sopron red wine: Kékfrankos (Blue Frank) "Again together" from Pfneiszl vineyard
Local beer
Orange juice
Mineral water (Theodora)
Coffee
Entrance fee: 35 EUR
Reservation: online
Tickets: available at the Registration Desk, on a "First come, first served" basis.
Reserved tickets should be picked up at the Registration Desk until Wednesday noon (August 26, 12:00).
Vegetarians are kindly asked to inform LOC when purchasing the Banquet ticket.
"Registration upgrade" participants (who ordered 5 lunches between 24-28 August and admission to the congress banquet on 27 August 90 EUR ), please do NOT purchase the 35 EUR ticket.
IAGA 2009 LOC
---
Excursion Programmes by Escort Tourist, Sopron

190KB
Cultural programmes during the IAGA 2009 week

660KB
Accompanying persons' programme

140KB